This program comes at the perfect time to serve the innovation movement in the UAE and the advancement toward smart cities with smart services in the area of energy, education, health, government, industry, artificial intelligence, robotics and business.
Master of Science in Electrical and Computer Engineering

Type

Postgraduate

Credit Hours

33 Hours

Duration

2 Years

Language

English

Study mode

Full Time, Part Time

Intake

Spring, Summer, Fall, Winter

Delivery mode

Evenings

Campuses

Abu Dhabi
Due to the ever-changing needs of this agile industry, our curriculum is constantly evolving to meet the needs of the market.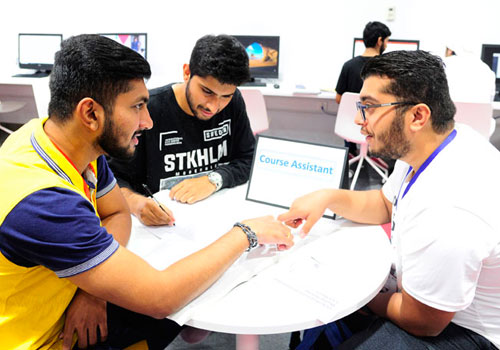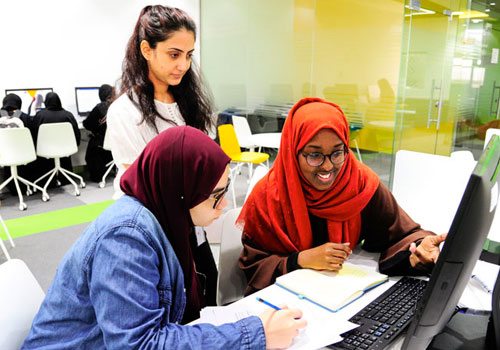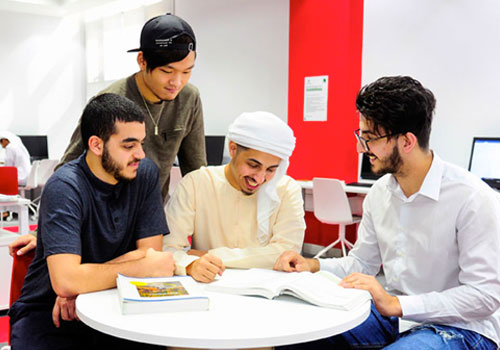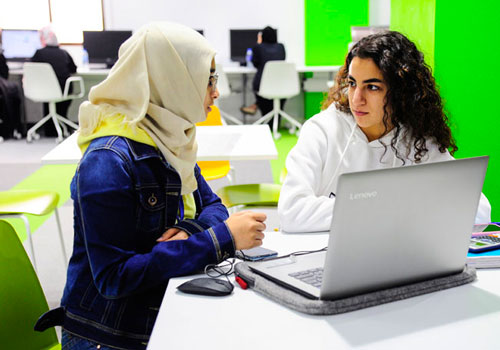 About the program
The combination of the two disciplines emphasizes the increasing importance of traditional electrical engineering subjects like electromagnetics and signal processing to the new age of computer engineering.
Due to the rapid technological evolution over the past decade, communications, information, visualization and sensing technologies are increasingly becoming integrated. As a result, the interface between electrical engineering and computer engineering, once very distinct fields in themselves, is a growth area in the technology industry.
This program, one of only two such integrated programs on offer in the UAE, will prepare you to tackle complex problems in the areas of microelectronics, communications and networking, power and renewable energy, embedded systems, robotics, the Internet of Things, machine learning, signal processing and information technology.
The holistic approach to electrical and computer engineering produces students better prepared to integrate modern computing systems into devices, products and services capable of bettering the world.
You Can See our students feedback
Testimonials
"They take your passion and talent and push you even further."
"I applied to quite a few universities initially but ADU gave me a full scholarship based on a score of 99% in my high school certificate. I'm happy that they saw my potential.
My experience in the Electrical & Computer Engineering department has been incredible. The professors' doors are always open, they make you love the courses they're teaching, and they are so supportive of working students. My professors still encourage me to compete in my field. If you're hard working, they take your passion and talent and push you even further."
Marah Talal Al Halabi
From Syria Tuition fees structure & calculation
Tuition is based upon the College and/or Department classification as opposed to the course classification or level. Tuition rates for undergraduate students vary from the tuition rates for graduate students.
The tuition fee calculations are an example only and are based on the assumption that elective courses will be taken with the College that the student is taking their major with. However, if the student selects elective courses outside of this College, the total cost payable may increase or decrease to reflect the tuition rate of the College where the elective is delivered.
Costs of books and supplies are not included in the Tuition and Fees. Students at Abu Dhabi University are also required to pay certain fees and other costs to attend the University. Abu Dhabi University reserves the right to change tuition and fee rates at any time. A tuition schedule is published prior to registration for each semester.
For more information, please click here to view the University's tuition fee structure. Fees are subject to change during the year as per government charges and testing bodies.
Career opportunities
The continued worldwide growth in all aspects of electrical and computer technologies means this program opens up a wide array of career possibilities. Electrical and computer engineers are highly employable and can find work in many industries including electronics, automotive, IT, telecoms, manufacturing, energy, transport, aerospace, utilities and construction.
As a professional engineer already, this advanced degree will advance your career, whether it be through growth in your current role or new opportunities in this dynamic field.
The acquisition of a master's degree demonstrates a high level of knowledge in your chosen field. You may use it to enhance your employability, as preparation for further academic research - if you opt to do a thesis as part of your degree you will be well prepared to enrol on a PhD program anywhere in the world - or as a means of professional training.
Bachelors Degree
Directly related discipline with a minimum CGPA of 2.50 on a 4.00-point scale, from an accredited university recognized by the UAE's Ministry of Education- Higher Education Affairs.
English language proficiency requirements
For master program taught in English, an Official score report of international TOEFL (IBT) 79 or the ITP 550 (taken at Amideast) or the Academic IELTS 6.0 must be taken no more than two years prior to admission, or English EmSat minimum score of 1400 no more than 18 month prior to admission to Abu Dhabi University.
Students who are native speakers of English and have completed their undergraduate education in an institution where the medium of instruction is English may be exempted from the English Proficiency Tests.
Students with a recognized bachelor's degree and an EmSAT score of 1250, English Academic IELTS Score 5.5, or equivalent on another standardized test approved by the Ministry, can be granted conditional admission for one semester, and may take a maximum of six credit hours in the first semester of study.
International Students
We also welcome applications from students with a variety of bachelor degrees from an accredited university recognized by the UAE's Ministry of Education- Higher Education Affairs, upon their successful completion of any required program foundation courses. These applicants will be granted admission into the program after the successful completion of some business foundation courses. For more information on international students' admission to any of ADU's postgraduate programs visit, please visit Postgraduate International Admission.
Transfer Students
Postgraduate transfer students may apply for credit transfer for courses taken prior to joining Abu Dhabi University only once, when they first apply for admission. For more information on requirements for credit transfer, visit Postgraduate Transfer Students.
Course outline
Major Electives
6
Credit Hours
Open Electives
0
Credit Hours
Concentration
0
Credit Hours
Dissertation/Project/Thesis
3
Credit Hours
Scholarship and financial aids
Scholarships
Abu Dhabi University is dedicated to empowering outstanding students and inspiring them to pursue their educational objectives.
Our scholarship and financial aid program represents a key pillar in our strategy for academic excellence and reflects our commitment to supporting the development of the UAE.
We consider it an important national duty to provide equal opportunities for students interested in pursuing higher education and enable them to proactively contribute to society regardless of their financial situation.