The Bachelor of Science in Environmental Health and Safety (BSc in EHS) is a cutting-edge multidisciplinary program designed to meet the growing needs of industry and provide students with the skills to ensure occupational environmental protection, health, and safety in the workplace.
BSc in Environmental Health and Safety

Type

Undergraduate

Credit Hours

130 Hours

Duration

4 Years

Language

English

Study mode

Full Time

Intake

Spring, Summer, Fall, Winter

Delivery mode

Day

Campuses

Abu Dhabi, Al Ain
The program covers major environmental issues including sustainability, renewable energy, water quality and management, pollution monitoring, hazardous materials operations and awareness, risk assessments, waste management, and occupational health and safety.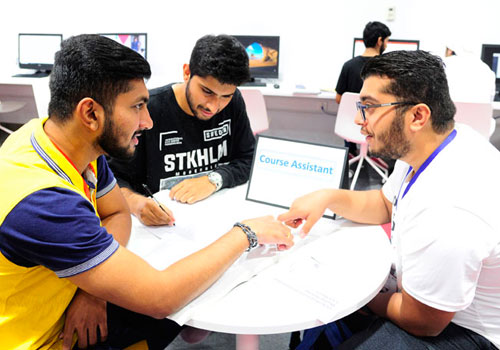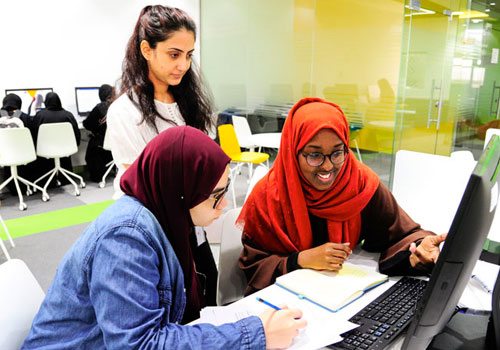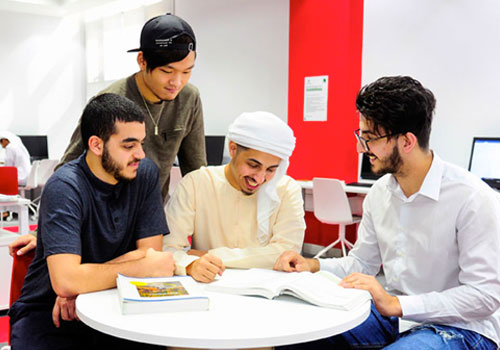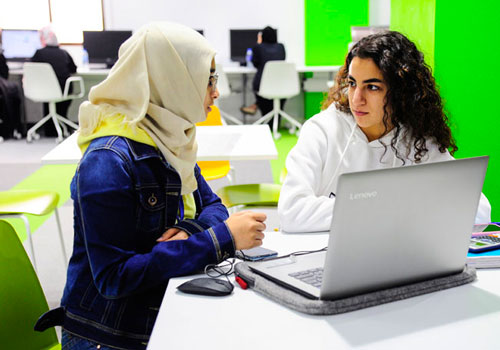 About the program
You will be provided with high-end knowledge in environmental health and safety and internship training that bridges academic knowledge with practical application in the workplace.
You will learn how to identify and minimize the effects of different types of hazards that can affect the health and safety of employees. These include those related to ergonomics, thermal, chemical, electrical, mechanical, and radioactivity, as well as hazardous materials and waste. The program covers the fundamental scientific, legal, and technological principles underlying environmental health issues, looking at the circumstances giving rise to health inequalities, analyzing the environmental impact and health risks, and identifying appropriate interventions.
Abu Dhabi University's BSc in EHS is the only such program offered in the UAE. Our growing industry collaborations with organizations such as Environment Agency-Abu Dhabi (EAD), Occupational Safety and Health Center-Abu Dhabi (OSHAD), Camfil Clean Air Solutions, Abu Dhabi Food Control Authority (ADFCA), and Abu Dhabi Quality Conformity Council (QCC) enrich the research and learning opportunities.
You Can See our students feedback
Testimonials
The Environmental Health and Safety program has enabled me to develop my skills and obtain better career opportunities. I graduated in Fall 14/15 and I am currently working as EHS Manager at Abu Dhabi Ports.
During my undergraduate degree in the College of Health Sciences, I was able to acquire a high standard of knowledge and information. I also had the opportunity to participate in workshops and conferences where I met people from different industry sectors. All of this was possible due to the continuous support from the professional faculty, who focus on linking the theoretical part of the program with industry.
Mohamed Al Hosani Program educational objectives and student outcomes
BSc in Environmental Health & Safety graduates will be able to:
Identify information required to describe and manage the environment, health and safety at an institutional, regional, and global level.
Assess the economic and social implications of EHS issues.
Assess the effects of environmental policy on environment, health, and safety.
Formulate recommendations for EHS standards for a sustainable society.
Develop action plans for implementation of local and global EHS policies and regulations.
Write, speak, and use electronic communication tools to communicate with the public and professionals concerning EHS issues.
Apply critical thinking methods when making decisions and value judgements on EHS issues.
Exhibit teamwork and leadership skills when working with groups on EHS issues.
Tuition fees structure & calculation
Tuition is based upon the College and/or Department classification as opposed to the course classification or level. Tuition rates for undergraduate students vary from the tuition rates for graduate students.
The tuition fee calculations are an example only and are based on the assumption that elective courses will be taken with the College that the student is taking their major with. However, if the student selects elective courses outside of this College, the total cost payable may increase or decrease to reflect the tuition rate of the College where the elective is delivered.
Costs of books and supplies are not included in the Tuition and Fees. Students at Abu Dhabi University are also required to pay certain fees and other costs to attend the University. Abu Dhabi University reserves the right to change tuition and fee rates at any time. A tuition schedule is published prior to registration for each semester.
For more information, please click here to view the University's tuition fee structure. Fees are subject to change during the year as per government charges and testing bodies.
Career opportunities
Graduates of the EHS program will be qualified to work in a diverse range of public and private organizations across all sectors. These include but are not limited to ADNOC group of companies, OSHAD, EAD, ADFCA, National Drilling Company, Abu Dhabi Ports, Baraka Nuclear Power Plant, Abu Dhabi Waste Management Center-Tadweer, Environmental Protection and Safety Section (EPSS)-Abu Dhabi Municipality, Etihad Airways, Federal Authority for Nuclear Regulation, Abu Dhabi National Chemical Companies (ChemaWEyatt), Abu Dhabi Water and Electricity Authority (ADWEA), and Ministry of Energy and Industry. Roles include:
Environment, Health & Safety Officer
Environment, Health & Safety Manager
Occupational Health & Safety Specialist
Occupational Health & Safety Auditor
Sanitation Director
Workplace Safety Assessor
Food Safety Inspector
Hazardous Waste Specialist
Risk Assessment Consultant
Impact Assessment Expert
High School Curriculum

Minimum Grade

*

Language Proficiency

MOE Advance
70%
Academic IELTS 5.0
or EMSAT English 1100
or ITP (taken at Amideast) 500
or Internet- based TOEFL (iBT) 61
MOE General
70%
MOE ADEK
70%
UAE Literary Streams High School (Before 2017)
70%
UAE Science Streams High School (Before 2017)
70%

**

American / Canadian
70%

**

British Curriculum or IGCSE / GCE(Completed Year 13/Grade 12 of High School)
70%

**

Indian/Pakistani/Bangladesh
50%

**

International Baccalaureate
24 points
* Students who achieved a score below maybe admitted conditionally, depending on the program and the minimum requirement of the Ministry of Education. Please contact the Admission, Enrollment and International Affairs Department for more information, admissions@adu.ac.ae
** Foreign curriculum or curriculum which does not follow the UAE curriculum are required to submit an Equivalency Letter issued by the UAE Ministry of Education.
Course outline
General Education
36
Credit Hours
Major Electives
0
Credit Hours
Open Electives
18
Credit Hours
Scholarship and financial aids
Scholarships
Abu Dhabi University is dedicated to empowering outstanding students and inspiring them to pursue their educational objectives.
Our scholarship and financial aid program represents a key pillar in our strategy for academic excellence and reflects our commitment to supporting the development of the UAE.
We consider it an important national duty to provide equal opportunities for students interested in pursuing higher education and enable them to proactively contribute to society regardless of their financial situation.