Abu Dhabi University's Wins Beta Gamma Sigma Top Award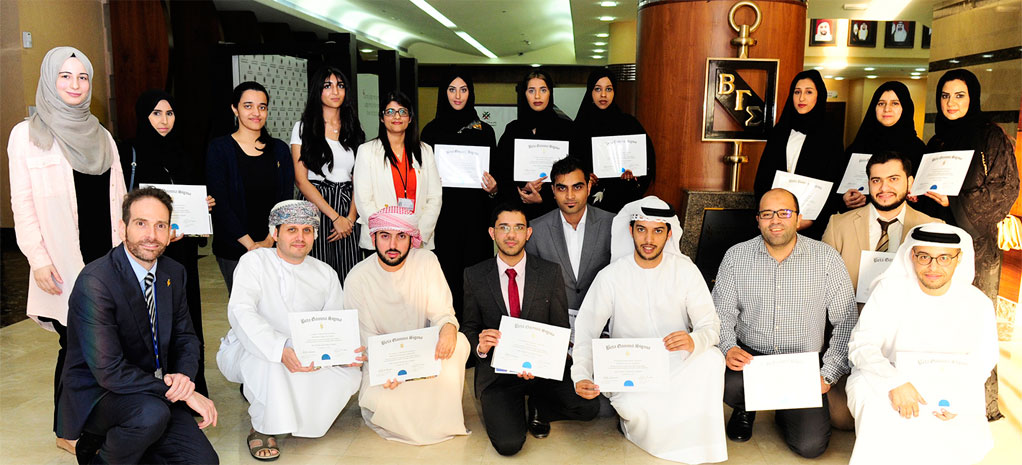 Abu Dhabi-UAE: 2 September, 2018 - Abu Dhabi University (ADU), an internationally recognized institution for quality education and applied research, has made significant efforts in encouraging and honoring the academic achievements of students in business and management programs through its Beta Gamma Sigma honor society.
As part of its commitment to advancing the visibility and reputation of the Beta Gamma Sigma honor society, ADU has also implemented student-centric activities such as the Distinguished Speaker Series, Guest Lecture Series, Mentorship Program, and an Executive Shadowing Program.
ADU's efforts have earned its chapter of Beta Gamma Sigma multiple accolades since its inception in October 2015, including a mention in the highest BGS society honors list for the past three years. Furthermore, the ADU chapter's nominee Shereen Al Nowais, social entrepreneur and founder of Taaleem Center in Abu Dhabi, received the BGS Business Achievement Award 2017 from the BGS Honor Society in the United States.
More recently, the Abu Dhabi University chapter also won Beta Gamma Sigma's 2018 Gold Outstanding Chapter Award on 23 April in Hawaii, USA. Each year, Beta Gamma Sigma recognizes its most outstanding chapters at the Gold, Silver, Bronze, and Honorable Mention Levels. These awards are merit recognitions presented to chapters that have a variety of activities, programs, projects, and events for students and support the Beta Gamma Sigma mission throughout the course of the year. Abu Dhabi University was selected for the Gold category from more than 580 member chapters across the world.
Complementing ADU's win, Dr Fauzia Jabeen, Associate Professor of Management in the College of Business and Chapter Officer - BGS, received the Chapter Advisor of the Year 2018 award globally. The Chapter Advisor of the Year is a merit recognition awarded by Beta Gamma Sigma to an outstanding advisor who has significantly contributed to the success of their chapter and supported the Beta Gamma Sigma mission throughout the course of the academic year. Dr Fauzia Jabeen has served as the BGS advisor at Abu Dhabi University since the chapter's inception. To build awareness and support at the college and university levels, she conceptualized and implemented various BGS events, including a Distinguished Speaker Series featuring the Ambassador of Finland to the UAE, as well as senior business leaders from across the country.
Beta Gamma Sigma is an international business honor society that operates exclusively for AACSB accredited programs. Membership to Beta Gamma Sigma is highly selective, reserved for students within the top 5% of business schools around the world. Beta Gamma Sigma has inducted more than 830,000 members worldwide since its founding in 1913.