Abu Dhabi University Students Shadow CEOs at Top Firms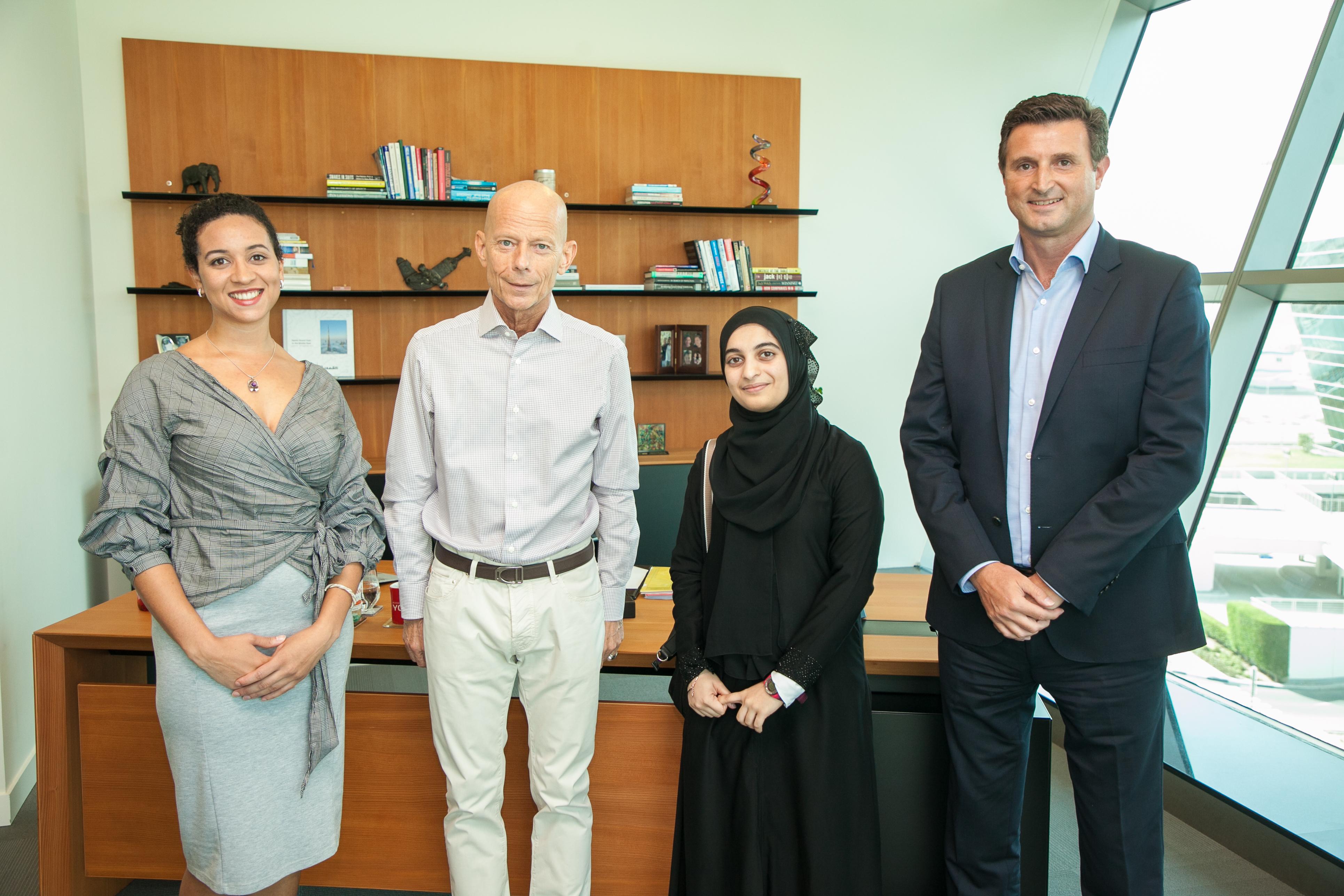 Four students from Abu Dhabi University (ADU) were given the opportunity to walk in the footsteps of experienced industry leaders after being selected for the 'CEOx1Day' program, an initiative organized by executive search firm Odgers Berndtson to identify future leaders and give them a unique work experience opportunity.
The four students from ADU were handpicked from a group of 19 who were shortlisted from amongst hundreds of student applicants across the UAE universities. Azza Goltay, ADU's College of Business (CoB) student, was matched to Nestle, the world's largest food and drink company. Dildar Mansoor, a CoB student, was selected to shadow the CEO at shared services company Tanfeeth. Hind Chehade, a COB student, was paired with global pharma company Takeda, and Munir Chaer, College of Engineering student shadowed the head of multinational auto company Ford.
Speaking on the achievements of the students, Professor Waqar Ahmed, Chancellor of ADU said, "We are committed to ensuring that our students not only receive outstanding instruction in their chosen subjects but also leave the University with soft skills that are transferable and will optimize their employability. Our achievement in the CEO for a Day competition testifies that our approach is working."
Reflecting on her experience at Nestlé, Azza Goltay said: "It was a wonderful experience to dive into the management world. I had the chance to explore different methods Nestlé adapts to global trends and market changes while maintaining the quality of its products."
Hind Chehade said: "This opportunity at Takeda allowed me to gain a unique perspective on the pharmaceutical industry and the factors that go into the marketing and development of medicine. It was truly one of the best experiences I've ever had."
Engineering student Munir Chaer commented: "I gained an overwhelming amount of insight into the everyday life of a corporate executive officer."
Dildar Mansoor added: "This experience opened my eyes. I would highly recommend it to those with an interest in learning the way a business operates."
The recently revamped University College year provides first year students with a strong focus on future work skills including digital literacy, qualitative reasoning, innovative and critical thinking, team building, leadership, ethical reasoning, design thinking, sense making and use of social and emotional intelligence. ADU's commitment to future proofing the skills provided to their students is further highlighted by the reorganization of the Student Affairs Department and the creation of a new position - Senior Manager for Employability and Alumni Relations.