ADU Showcases New Academic Programs & Initiatives at NAJAH Exhibition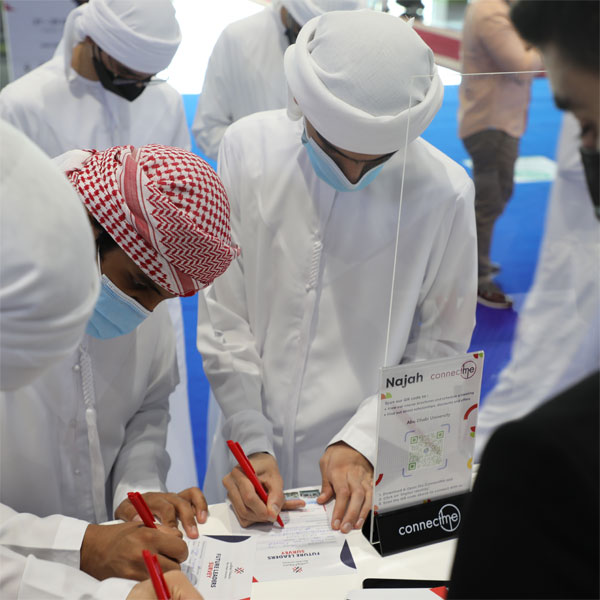 Abu Dhabi University, the largest private university in the UAE, today showcased a number of new academic programs at the 2018 NAJAH education fair, which kicked off today in Abu Dhabi. The new programs will be added to ADU's current portfolio of 44 internationally accredited undergraduate and postgraduate programs.
The new programs in the Bachelor's level will include BSc in Biomedical Engineering, BSc in Cyber Security Engineering, BSc in Industrial Engineering, BSc in Software Engineering and BSc in Artificial Intelligence and Robotics Engineering.
ADU recently revealed the restructuring of the academic curricula for first year students, shifting the focus more towards firsthand work experience in addition to enforcing leadership and innovation principles with a view to equip students to meet the needs of the prospective job market. The new programs have been designed to set students up for success in their chosen career area by providing them with the right skillsets and professional qualifications. Further enhancing the student experience, ADU has recently launched a new innovative student-centric website which provides more convenience and ease for current and prospective students.
As part of its participation in this year's NAJAH education fair, ADU aims to showcase its portfolio of internationally accredited programs offered both at its main campus in Abu Dhabi as well as its campus in Dubai. The university offers a number of locally and internationally recognized postgraduate programs in the Business Administration, Law, Engineering and Education disciplines in addition to other programs available across its other campuses in Al Ain and Al Dhafrah.
Dr. Waqar Ahmad, Chancellor of Abu Dhabi University has emphasized the valuable role of the fair in providing a platform for thousands of students, parents, academic professionals, representatives from educational institutes and sector professionals.
Dr. Ahmad pointed out that this education fair represents an ideal opportunity for ADU to explore avenues of collaboration with other participating academic institutions. At the same time, ADU has the opportunity to showcase its existing programs and exceptional international ranking among the world's top 150 universities within less than 50 years of establishment, in addition to its ranking as one of the top three universities worldwide in terms of international faculty members and top ten in student cultural diversity according to Quacquarelli Symonds (QS) world university ranking.
Touching on the new programs, Dr. Waqar Ahmad said: "Prior to selecting these programs, we have carried out extensive research and comprehensive studies at ADU. We saw it imperative that we glean a deep understanding of what programs will be essential to success in tomorrow's competitive job market. We firmly believe that these programs fit the bill, and that they will undoubtedly contribute to filling the market demand."
Dr. Ahmad added: "ADU continuously strives to support the UAE leadership's vision in transforming the UAE into a diversified, innovative and knowledge-based economy, setting it among top ranked economies as per the global competitive index. As one of top ranking universities globally, we believe our contribution can help achieve this vision."
Abu Dhabi University has recently announced a AED 300-million expansion project to a new campus in Al Ain City in Abu Dhabi, that will span 28,000 sq m in the first phase. The new campus will offer 70 classrooms, 137 staff offices in addition to a number of facilities and amenities designed as per international standards. The first phase is set to be completed by September 2019.