ADU Awards Winners of Regional Undergraduate Research Competition
Abu Dhabi University (ADU) recognized the winners of the regional Undergraduate Research Competition, now in its seventh year, at an awards ceremony held under the patronage of His Excellency Hussain bin Ibrahim Al Hammadi, Minister of Education.
ADU recognized the winners of the regional Undergraduate Research Competition, now in its seventh year, at an awards ceremony held under the patronage of His Excellency Hussain bin Ibrahim Al Hammadi, Minister of Education. Organized with the ADNOC Group as a strategic partner, the awards ceremony, which took place at the University's main campus in Abu Dhabi, acknowledged over 261 shortlisted submissions from local and regional academic institutions.
In this edition, the competition saw the participation of prestigious universities from Saudi Arabia and Oman, with three universities from Saudi Arabia presenting 34 research works and eight universities from Oman presenting 12 research projects.
The university awarded more than 34 winning teams from 17 universities in the UAE, Saudi and Oman. The winners comprised 6 winners from University of Sharjah, 6 students from Abu Dhabi University, 3 Khalifa University, 2 American University of Sharjah, 2 University Arab Emirates University, 2 King Saud University, 2 Al Ain University of Science and Technology, 2 University of Wollonong in Dubai, 1 New York University Abu Dhabi (NYUAD), 1 Sultan Qaboos University, 1 Dhofar University, 1 Gulf Medical University, 1 Birla Institute of Technology and Science, 1 Rochester Institute of Technology - Dubai, 1 Zayed University, 1 Canadian University Dubai, 1 Middlesex University Dubai.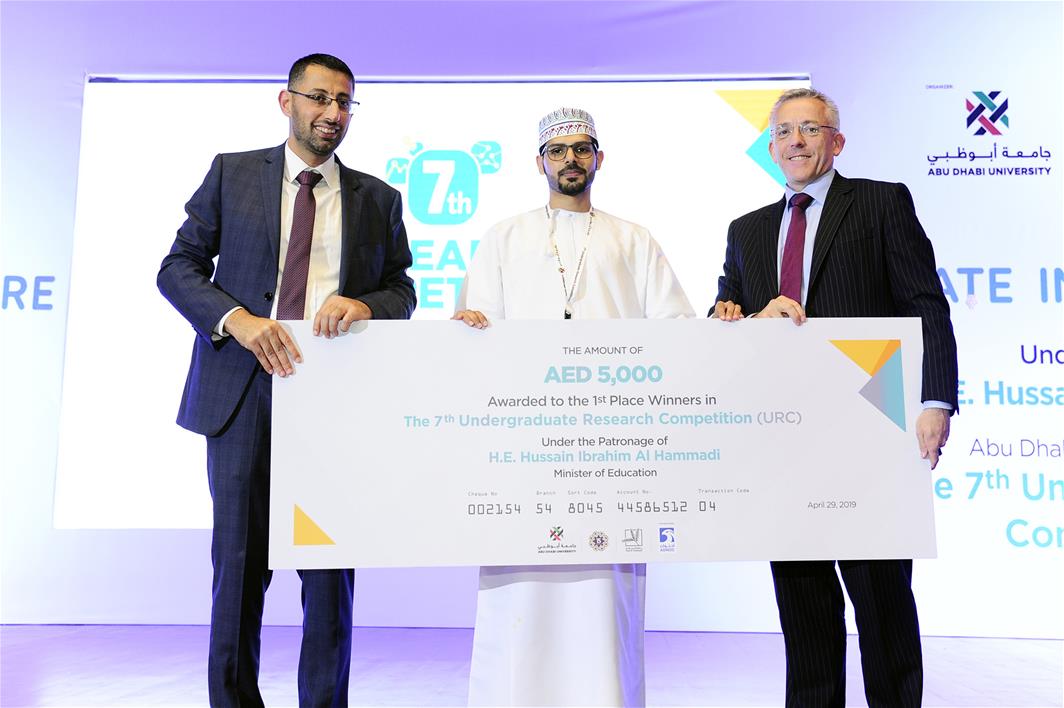 Commenting on the competition, ADU's Chairman, H.E. Ali bin Harmal Al Dhaheri said, "ADU is proud to be leading the region's largest and most prestigious research-based competition as it continues to encourage greater innovation amongst students year after year. As one of the nation's leading higher education institutions, and in line with the Abu Dhabi vision 2030, we are dedicated to delivering initiatives that will prepare our students for the future as we transition towards a knowledge-based economy. By hosting events that focus on tolerance, entrepreneurship, and artificial intelligence, we are preparing our community for the future, and contributing greatly to the UAE's diversifying economy."
H.E. Dr Bin Harmal extended his appreciation to the strategic partners from Abu Dhabi National Oil Company (ADNOC) who contributed in making the event another huge success.
This year's submissions covered a diverse range of fields including engineering, business administration, arts and social sciences, education and law, and natural and health sciences. To enhance the relevance to the UAE, two new categories were introduced this year: Tolerance and Innovation. The former is in line with the UAE's theme of 2019 as the Year of Tolerance and its values of acceptance and co-existence, and the latter seeks to encourage and inspire creative thinking, artificial intelligence, and digitalization, all of which are key pillars in the UAE's economic plan.

Professor Ashraf Khalil, ADU Director of Research and organizer of the annual competition, said, "ADU prioritizes research opportunities for its community with URC being one of our most important competitions and the region's leading research event for undergraduates. This competition opens up research opportunities in all areas of studies and we have further expanded the research categories for this year's edition with 15 different discplines to engage more undergraduate students. This aims to complement the UAE's efforts towards transitioning to a knowledge-based economy founded on research and innovation as two key pillars to achieving this vision. With an eye towards the future, ADU continues to empower and instill a culture of research and innovation among new generations."
Undergraduate students from across the GCC presented their research findings to a panel of expert judges, with 34 winning teams receiving prizes worth over AED 120,000.

Participation has grown rapidly since the competition's inception, with the number of submissions more than doubling from last year.
ADU demonstrated the extent of its research efforts earlier this year when it reached 1,000 scientific papers listed in the Scopus Index, a world-renowned database of high-quality research. This makes ADU the nation's top private academic institution in terms of quality research output.

For more information on ADU's upcoming events, please visit https://www.adu.ac.ae.

The event was organized with the support of ADU's strategic partners at ADNOC Group