ADU Welcomes Professor Thomas Hochstettler as New Provost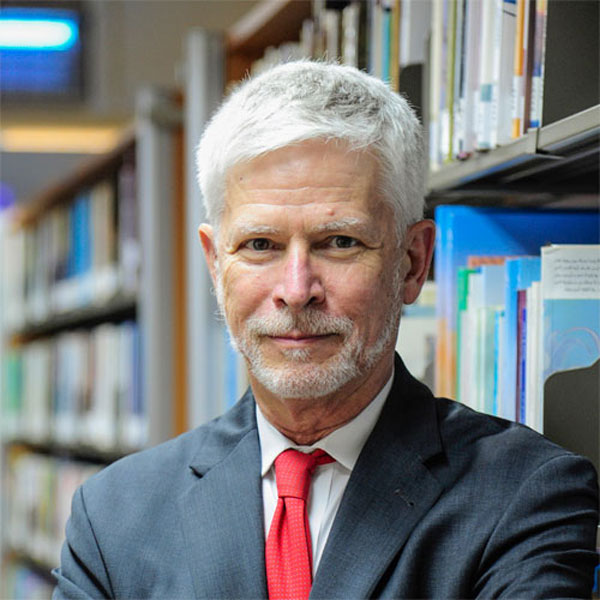 ADU has welcomed one of the best known leaders in higher education in the region, Professor Thomas J. Hochstettler, as its new Provost, joining an already distinguished and highly qualified leadership team under the direction of Chancellor Professor Waqar Ahmad. In his new role, Professor Hochstettler will provide strategic direction to the university's teaching and research activities and will work with the Chancellor, Vice-Chancellor Administrative and Financial Affairs, Director Al Ain and Dubai Campuses, Deans, Faculty, Director Student Affairs and other University leaders on matters related to the curriculum, teaching and learning, faculty research, and growth of academic provision. His portfolio includes oversight of the University's five Colleges and all academic support activities.
Professor Hochstettler brings over thirty years of experience as leader to his new role at ADU. He is highly regarded internationally as an influential leader and innovator in higher education. With Hochstettler as part of its leadership team, ADU will continue to be guided by the strategic-planning vision of enhancing its national and international standing as a leading higher educational institution and its commitment to contributing to the growth and prosperity of the UAE and the region. As Provost, Hochstettler will be an invaluable asset to the university, which is dedicated to maintaining the highest quality of teaching, student success, research, creativity, and service to the community and nation.
Professor Hochstettler is a graduate of the University of Michigan, where he earned his Masters and PhD degrees in the field of European social and economic history. He began his career as a teacher and university administrator at Stanford University. Before joining ADU, Professor Hochstettler was President of the Petroleum Institute in Abu Dhabi, and prior to that, he served as Provost at the American University of Sharjah. He was the founding Vice President for Academic Affairs of Jacobs University in Bremen, Germany, and later served as President of the elite Lewis & Clark College in Portland, Oregon, USA. He was most recently Commissioner at the Commission for Academic Accreditation within the UAE Ministry of Education.
Commenting on this key appointment, the Chancellor said:" With Professor Hochstettler's arrival, I have the strongest leadership team in higher education in the country. We need this to address the challenges facing higher education and to continue on our mission to grow, enhance our reputation and to educate graduates ready to take on leadership roles in their chosen career. Tom's experience of leadership in three continents and his extensive international networks will strengthen our connections globally. I know that the Chairman and members of the University's Board of Directors are as delighted to have appointed Tom as I am."
Abu Dhabi University is committed to improving the level of excellence in the service it provides its students and stakeholders. ADU continues its campaign to attract top-level academic expertise from around the world, striving in all it does to safeguard its commitment to excellence and to fulfil efficiently and effectively its mission to prepare graduates for fulfilling and dynamic careers. ADU prepares its students through transformative world-class education, enriched by innovative and flexible programs, international networks, applied research, and impactful engagement with business, industry, and the broader community. ADU has also recently appointed Professor Barry O'Mahony as new dean to lead the College of Business, as well as Professor Wassim Almaoui as the Dean of the College of Health Sciences.