ADU Announces Affiliation with Mediclinic Middle East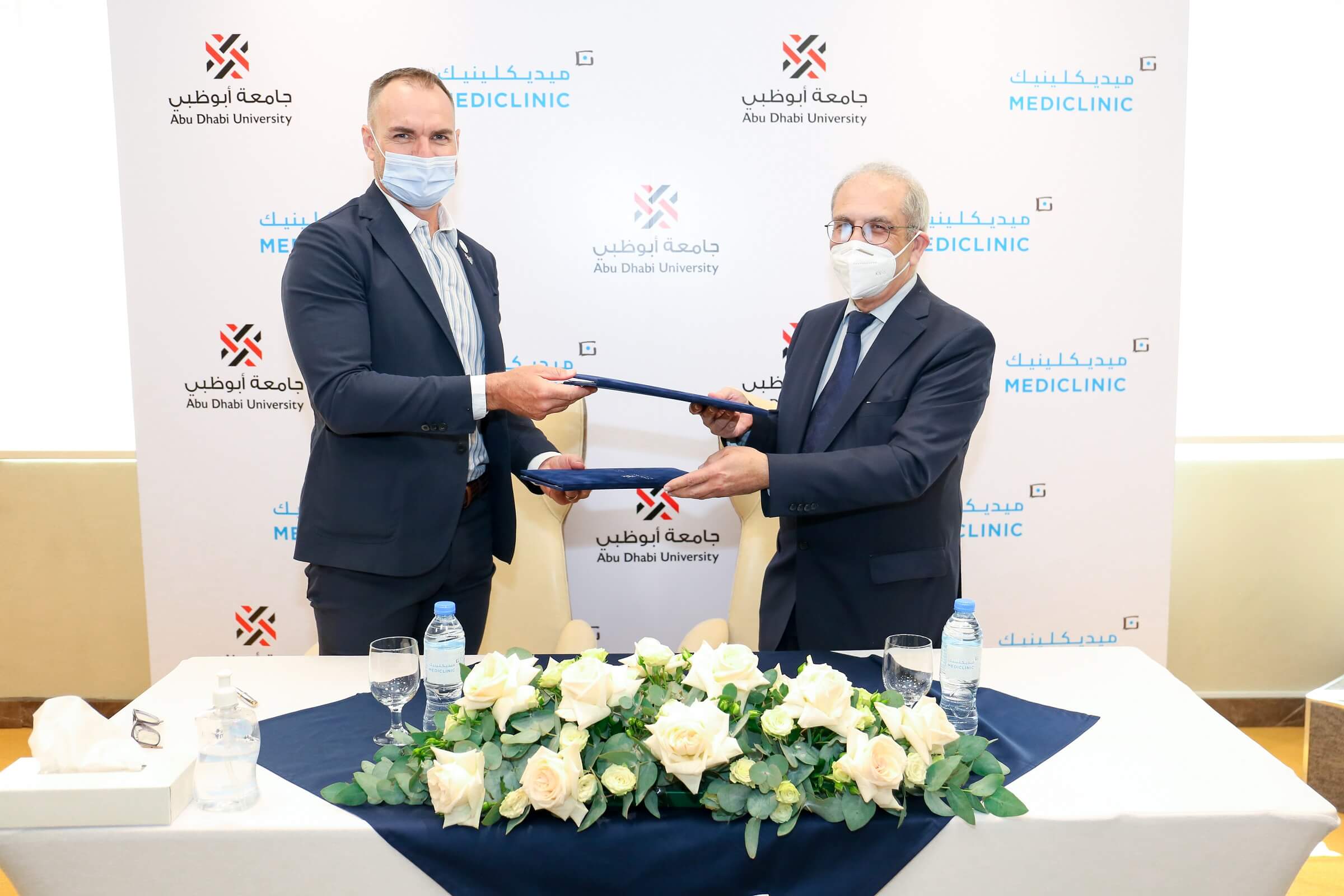 ADU has signed a Memorandum of Understanding (MoU) with Mediclinic Middle East (MCME), part of Mediclinic International, an international private healthcare services group. The MoU aims to promote ties between both institutions through joint academic programs, student training and internships, and research.
The agreement will see both parties cooperate to mutually benefit from consultancy to support and elevate the skills and capabilities of medical personnel for the ADU's community and students. The agreement also covers the feasibility of exchanging medical expertise to enhance ADU's effectiveness and professionalism in scientific, clinical, and academic programs.
Under the agreement, which was signed earlier this month between Prof. Wassim Y. Almawi, Dean of the College of Health Sciences, ADU, and David Hadley, Chief Executive Officer at MCME, both parties will work together to create an optimal learning environment for ADU students to develop their academic clinical skills, and for cooperation in research and research ethics projects. Both institutions will collaborate on the exchange of information and experiences between students, staff and faculty members to provide the latest developments and the best practices.
Commenting on the agreement, Prof. Wassim Y. Almawi, said: "We are delighted to enter this strategic partnership with MCME, which reflects our commitment to working collaboratively with leading institutions in academics, healthcare and research. Our aim is to prepare students to become future health professionals to fulfill the health care needs of the UAE and beyond. This agreement will pave the way to cultivate curiosity for our students and expand their interests with clinical experiences."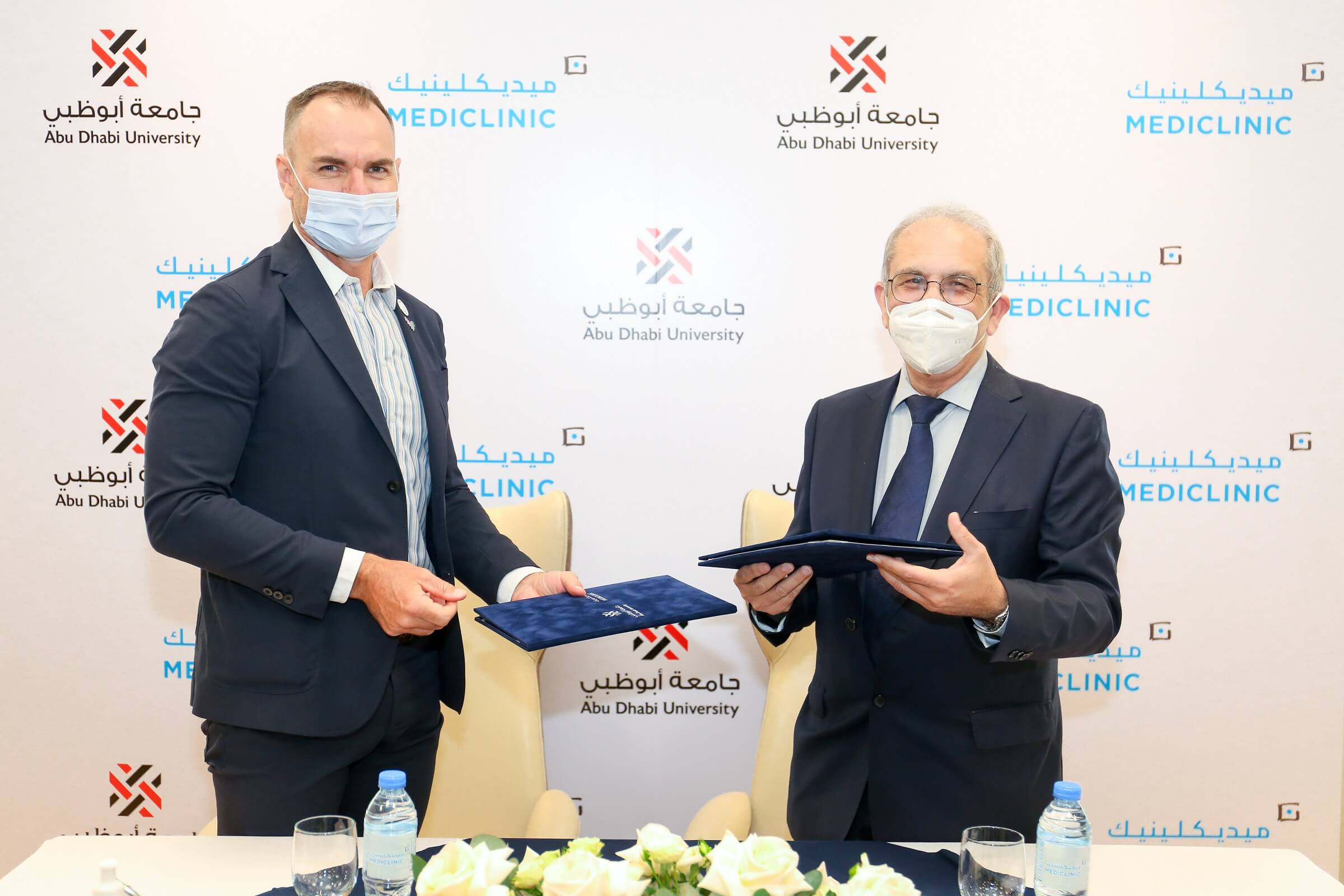 He added: "We want to offer our students a wide-ranging perspective of the medical field, so that they acquire not only a deeper appreciation for the rewards of medical practice but also the responsibilities associated with the profession. Working alongside MCME, we are confident that this will provide a sustainable environment that encourages creativity and innovation and the development of scientific research, community engagement, as well as knowledge dissemination among ADU and MCME. We believe that this marks the beginning of a fruitful and long-standing relationship between both institutions."
David Hadley, CEO of Mediclinic Middle East, said: "Mediclinic Middle East's academic programme supports the UAE's long term vision of training the next generation of doctors and medical professionals for the challenges posed by a rapidly evolving healthcare landscape. We are delighted to expand our network of academic collaborations in the UAE with this agreement with ADU and we look forward to working with them to develop the skills of the healthcare professionals of tomorrow."
The College of Health Sciences was the most recent college established in Abu Dhabi University. It currently offers BSc programs in Environmental Health & Safety, Public Health, Nutrition, Genetics and Molecular Medicine, and Laboratory Medicine in Abu Dhabi and Al Ain. The College will be home to innovative academic and research programs, community outreach initiatives, and interdisciplinary multi-center cooperation activities with national and international individuals and institutions.