Our BSc in Information Technology program for working professionals is delivered through schedules designed specifically to accommodate your busy work schedule (Only at Abu Dhabi Campus).
Bachelor of Science in Information Technology (Accredited by the Computing Accreditation Commission of ABET)

Type

Undergraduate

Credit Hours

126 Hours

Duration

4 Years

Language

English

Study mode

Full Time

Intake

Spring, Summer, Fall, Winter

Delivery mode

Day

Campuses

Abu Dhabi, Al Ain
In today's highly interconnected world, information technology (IT) is crucial to the successful operations of any business and is integral to our lives. Data is increasing at an unprecedented rate, with information now at the core of modern world economics.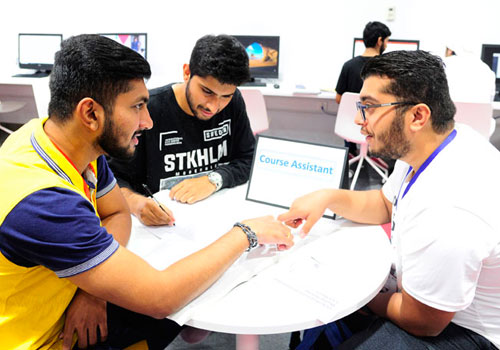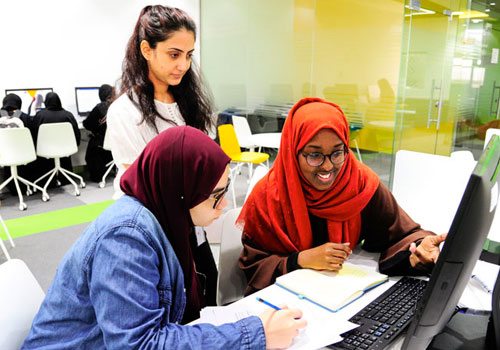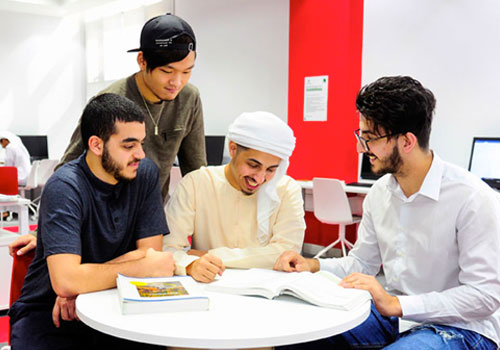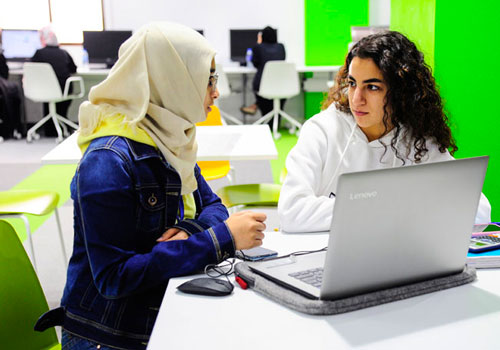 About the program
ARE YOU WORRIED ABOUT JUGGLING YOUR WORKING LIFE AND STUDY TIME?
In today's highly interconnected world, information technology (IT) is crucial to the successful operations of any business and is integral to our lives. Data is increasing at an unprecedented rate, with information now at the core of modern world economics.
This program introduces you to how IT systems can be managed and how business applications can be integrated. You will gain the design, development, implementation and management skills to effectively manage these technologies, focussing on how IT systems can support and, if used effectively, transform organizations.
Structured as a set of core courses and specializations, you will gain up-to-date knowledge in web technology and internet applications, networking, mobile applications and security, and interactive media, game programming and simulation. You will learn to use and apply current technical concepts and practices through human computer interaction, information management and programming. A practical project will enable you to apply the theory and make your mark in this ever-expanding discipline.
Developed according to the standards of international professional bodies such as the Institute of Electrical and Electronic Engineering (IEEE), the Computer Society (IEEE-CS), and the Association for Information Technology Professionals (AITP), the program ensures that you will be uniquely qualified to design, analyze, and test wide-ranging IT solutions using state-of-the-art technologies.
On-going innovation and emerging technologies in the rapidly changing IT field require the program to be continually updated.
Please click here to view the Enrollment and Graduation Data.
You Can See our students feedback
Testimonials
I wanted to study something that would help me help humanity.
As a first year enrolled in the BSc Information Technology program, Sarah has only experienced a small part of what she knows ADU has to offer so far, but she's looking forward to the ADU journey.
"ADU was my first choice because the IT program offered a lot more course choices than other universities I'd researched. I'm so happy with my decision to join ADU – all my instructors are amazing and are available to provide support pretty much round the clock.
There are so many extra-curricular activities to get involved in – so far, I'm on the ADU volleyball team and I'm planning on joining the debate team soon. I'm so excited to immerse myself fully in university life."
Sarah Abdel Sater
from Lebanon and Romania Program educational objectives and student outcomes
Program Educational Objectives
The following program objectives are broad statements that describe the career and professional accomplishments, which should be achieved few years following our student's graduation. In general, our graduates are expected to:
Demonstrate their success as IT professionals with a good set of technical, problem solving, and leadership accomplishments.
Participate in life-long learning activities such as training, continuing education, or graduate studies.
Contribute to the development and the growth of local and global communities and uphold their ethical, social, and professional responsibilities.
Student Outcomes
The following program outcomes describe competencies and skills that BSc. IT students will acquire by the time of graduation. BSc. IT graduates are expected to be able to:
Analyze a complex computing problem and to apply principles of computing and other relevant disciplines to identify solutions.
Design, implement, and evaluate a computing-based solution to meet a given set of computing requirements in the context of the program's discipline.
Communicate effectively in a variety of professional contexts.
Recognize professional responsibilities and make informed judgments in computing practice based on legal and ethical principles.
Function effectively as a member or leader of a team engaged in activities appropriate to the program's discipline.
Identify and analyze user needs and to take them into account in the selection, creation, integration, evaluation, and administration of computing-based systems.
Tuition fees structure & calculation
Tuition is based upon the College and/or Department classification as opposed to the course classification or level. Tuition rates for undergraduate students vary from the tuition rates for graduate students.
The tuition fee calculations are an example only and are based on the assumption that elective courses will be taken with the College that the student is taking their major with. However, if the student selects elective courses outside of this College, the total cost payable may increase or decrease to reflect the tuition rate of the College where the elective is delivered.
Costs of books and supplies are not included in the Tuition and Fees. Students at Abu Dhabi University are also required to pay certain fees and other costs to attend the University. Abu Dhabi University reserves the right to change tuition and fee rates at any time. A tuition schedule is published prior to registration for each semester.
For more information, please click here to view the University's tuition fee structure. Fees are subject to change during the year as per government charges and testing bodies.
Career opportunities
An information technology degree is a basis for a wide range of exciting IT-based careers including network management, system analysts, systems design engineering, software development, web-application development and e-business solution developers.
Graduates of this program have gone on to work in a wide range of companies including Abu Dhabi Accountability Authority, Abu Dhabi Council for Economic Development, ADCO, Abu Dhabi Education Council, Abu Dhabi Media Company, ADNOC, Abu Dhabi Ports, Ali & Sons, Alpha Data, Compubase, Du, Emirates Palace, Environment Agency Abu Dhabi, Health Authority Abu Dhabi, HSBC, Injazat, Ministry of Interior, Mubadala, PriceWaterhouse Coopers, Technic and UAE Armed Forces.
High School Curriculum

Minimum Grade

*

Language Proficiency

MOE Advance
80%
Academic IELTS 5.0
or
EMSAT English 1100
or
ITP (taken at Amideast) 500
or
Internet- based TOEFL (iBT) 61
And
Arabic EmSat 600
And
Math EmSat 900
And
Physics EmSat 800
MOE General
80%
MOE ADEK
80%
MOE Elite
75%
UAE Literary Streams High School (Before 2017)
80%
UAE Science Streams High School (Before 2017)
80%

**

American / Canadian
80%

**

British Curriculum or IGCSE / GCE
(Completed Year 13/Grade 12 of High School)
80%

**

Indian/Pakistani/Bangladesh
50%

**

International Baccalaureate
24 points
* Students who achieved a score below maybe admitted conditionally, depending on the program and the minimum requirement of the Ministry of Education. Please contact the Admission, Enrollment and International Affairs Department for more information, admissions@adu.ac.ae
** Foreign curriculum or curriculum which does not follow the UAE curriculum are required to submit an Equivalency Letter issued by the UAE Ministry of Education.
Course outline
General Education
33
Credit Hours
Major Electives
12
Credit Hours
Open Electives
6
Credit Hours
Scholarship and financial aids
Scholarships
Abu Dhabi University is dedicated to empowering outstanding students and inspiring them to pursue their educational objectives.
Our scholarship and financial aid program represents a key pillar in our strategy for academic excellence and reflects our commitment to supporting the development of the UAE.
We consider it an important national duty to provide equal opportunities for students interested in pursuing higher education and enable them to proactively contribute to society regardless of their financial situation.