Mechanical Engineering is a dynamic field that encompasses the engineering aspects of almost everything that moves in the universe.
Bachelor of Science in Mechanical Engineering (ABET-Accredited) - Industrial Mechatronics Concentration

Type

Undergraduate

Credit Hours

138 Hours

Duration

4 Years

Language

English

Study mode

Full Time

Intake

Spring, Summer, Fall, Winter

Delivery mode

Day

Campuses

Abu Dhabi, Al Ain
In this program, students will deal with the design, construction, and operation of machinery involved in some of the world's most pressing challenges related to energy, environment, robotics and advanced manufacturing, transportation on the ground, in the air, in outer space, and on and underwater.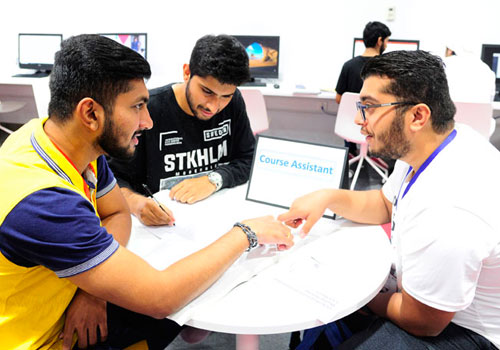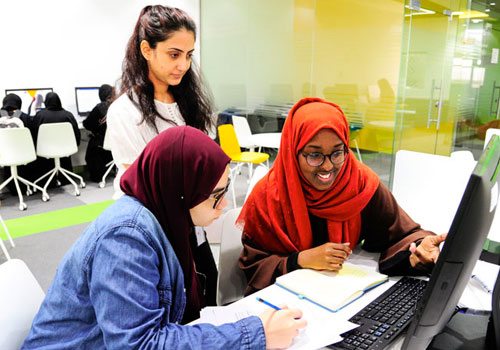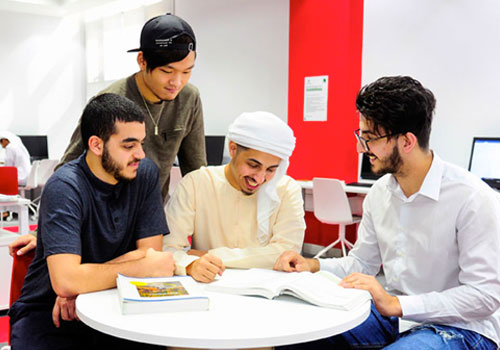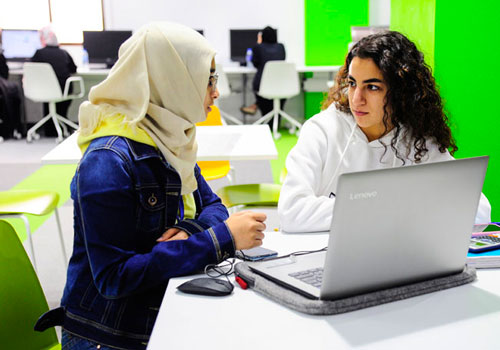 About the program
The pioneering Industrial Mechatronics concentration provides broad engineering knowledge and skills suited to the engineering of state-of-the-art industrial automated manufacturing and production systems.
In this program, students will deal with the design, construction, and operation of machinery involved in some of the world's most pressing challenges related to energy, environment, robotics and advanced manufacturing, transportation on the ground, in the air, in outer space, and on and underwater.
The program will uniquely qualify students to design and test wide-ranging solutions for state-of-the-art mechanical systems and emphasizes several areas of technology, including aerospace, thermal power, design, materials and manufacturing, and mechatronics. It includes a foundation of mathematics, physics, chemistry, and engineering courses. Several technical electives allow a focus on an area of specialization.
The concentration deals with real industrial applications of mechatronic systems. It integrates mechanical systems with control systems, process control engineering, intelligent systems, instrumentations, and industrial networks in automated and semi-automated manufacturing and industrial processes. Students will also study the performance and efficiency of modern industrial machinery using advanced sensory control technology.
Our emphasis is on practice throughout the program, and much of the study will be project-based.
Please click here to view the Enrollment and Graduation Data.
You Can See our students feedback
Testimonials
"My journey at ADU is a truly memorable one."
With hard work, Abid was able to complete his program in three years and graduated in the first cohort of students from the BSc Mechanical Engineering program in 2014.
"Although there were a few good options for studying Mechanical Engineering, I chose ADU not only because of the quality of its program but also because the admissions process was so streamlined.
My journey at ADU is a truly memorable one and the quality of education is something spectacular. The faculty are all highly qualified with experience from prestigious international universities and the laboratory facilities are some of the best in the UAE.
I'm now studying for my Master's and hope to go on to complete my PhD to achieve my ambition to become a professor."
Abid Abdul Azeez
From India, graduated in June 2014 Program educational objectives and student outcomes
Program Educational Objectives
Produce qualified mechanical engineering graduates with the knowledge and technical skills necessary to successfully serve the public and private sectors in both national and international industries
Produce graduates that are capable of designing, analyzing, testing, and implementing mechanical systems and processes
Prepare graduates for success in multidisciplinary professional settings with awareness and commitment to their ethical and social responsibilities, both as individuals and in team environments
Prepare graduates who meet industry expectations in terms of communication skills, ability to function well in teams, use of modern engineering tools, and commitment to life-long learning and professional development
Student Outcomes
An ability to identify, formulate, and solve complex engineering problems by applying principles of engineering, science, and mathematics
An ability to apply engineering design to produce solutions that meet specified needs considering public health, safety, and welfare, as well as global, cultural, social, environmental, and economic factors
An ability to communicate effectively with a range of audiences
An ability to recognize ethical and professional responsibilities in engineering situations and make informed judgments, which must consider the impact of engineering solutions in global, economic, environmental, and societal contexts
An ability to function effectively on a team whose members together provide leadership, create a collaborative and inclusive environment, establish goals, plan tasks, and meet objectives
An ability to develop and conduct appropriate experimentation, analyze and interpret data, and use engineering judgment to draw conclusions
An ability to acquire and apply new knowledge as needed, using appropriate learning strategies
Tuition fees structure & calculation
Tuition is based upon the College and/or Department classification as opposed to the course classification or level. Tuition rates for undergraduate students vary from the tuition rates for graduate students.
The tuition fee calculations are an example only and are based on the assumption that elective courses will be taken with the College that the student is taking their major with. However, if the student selects elective courses outside of this College, the total cost payable may increase or decrease to reflect the tuition rate of the College where the elective is delivered.
Costs of books and supplies are not included in the Tuition and Fees. Students at Abu Dhabi University are also required to pay certain fees and other costs to attend the University. Abu Dhabi University reserves the right to change tuition and fee rates at any time. A tuition schedule is published prior to registration for each semester.
For more information, please click here to view the University's tuition fee structure. Fees are subject to change during the year as per government charges and testing bodies.
Career opportunities
The Industrial Mechatronics concentration will equip students with the knowledge and skills needed in industry application to mechatronic systems, including DCS, SCADA, industrial robotics, PLC, and industrial automation. It will prepare them to meet industry expectations directly related to the fast expansion and growth in industrial automation and smart manufacturing systems and support industrial sectors in meeting the requirements of the Abu Dhabi Economic Vision 2030.
Type of Secondary School Certificate

Requirements

Ministry of Education Schools - General Track
Passing math and sciences in grade 12 with a minimum average of 90%
Successfully passing ADU's remedial course in physics
Achieving the minimum average of 90% on completing grade 12
Ministry of Education Schools - Advanced Track
Achieving the minimum average of 80% on completing grade 12
Indian Senior Secondary Certificates (CBSE), or State Board Examinations, or Indian School Certificates awarded by ICSE
Achieving the minimum average of 50% on completing grade 12
British System (IGCSE & GCE)
Completing a total of 7 subjects from either IGCSE level or AS/A2 levels, in at least 4 of the following fields: Mathematics, Languages, Sciences, Social Studies and Humanities, Art and Design; with a minimum required grade of C for the IGCSE level subjects, D for the AS Levels, and E for A2 subjects.
Successfully provide evidence / certificate of completing at least 11 years of schooling.
Canadian & American High School Diplomas
Achieving the minimum average of 80% on completing grade 12 or its equivalent of overall average B grade or 3.0/ 4.0
International Baccalaureate Diploma
Successfully completing 6 subjects, with at least 2 at the higher level (HL) and a minimum total of 24 points.
English language proficiency requirements
For programs taught in English, a minimum score range of 1100 - 1225 on the English language portion of the EmSAT examination, or its equivalent on other national or internationally-recognized tests that are approved by the CAA, such as TOEFL scores of 173 CBT (Computer-Based Test), 61 IBT (Internet-Based Test), 500 PBT (Paper-Based Test), or 5.0 IELTS (taken at Amideast), or their equivalent.
International Students
We also welcome applications from international students with a variety of secondary school certificates, and grades from other educational systems across the world, so long as they are recognized, and meet the conditions stipulated by the UAE's Ministry of Education- Higher Education Affairs. For more information on the entry requirements for international students, please visit International Undergraduate Requirements
Transfer Students
Undergraduate students may apply for credit transfer for courses taken prior to joining Abu Dhabi University only once, when they first apply for admission. For more information on requirements for credit transfer, visit Undergraduate Transfer Students.
Applicants with grades and English Language Proficiency Test scores that don't match the above requirements may be granted exceptions for conditional admission, dependent on their successful completion of required coursework or meeting specified criteria.
Course outline
General Education
21
Credit Hours
Industrial Mechatronics Concentration
15
Credit Hours
Scholarship and financial aids
Scholarships
Abu Dhabi University is dedicated to empowering outstanding students and inspiring them to pursue their educational objectives.
Our scholarship and financial aid program represents a key pillar in our strategy for academic excellence and reflects our commitment to supporting the development of the UAE.
We consider it an important national duty to provide equal opportunities for students interested in pursuing higher education and enable them to proactively contribute to society regardless of their financial situation.