ADU Interior Design Department Collaborate with Al Bahri Consultancy and Interiors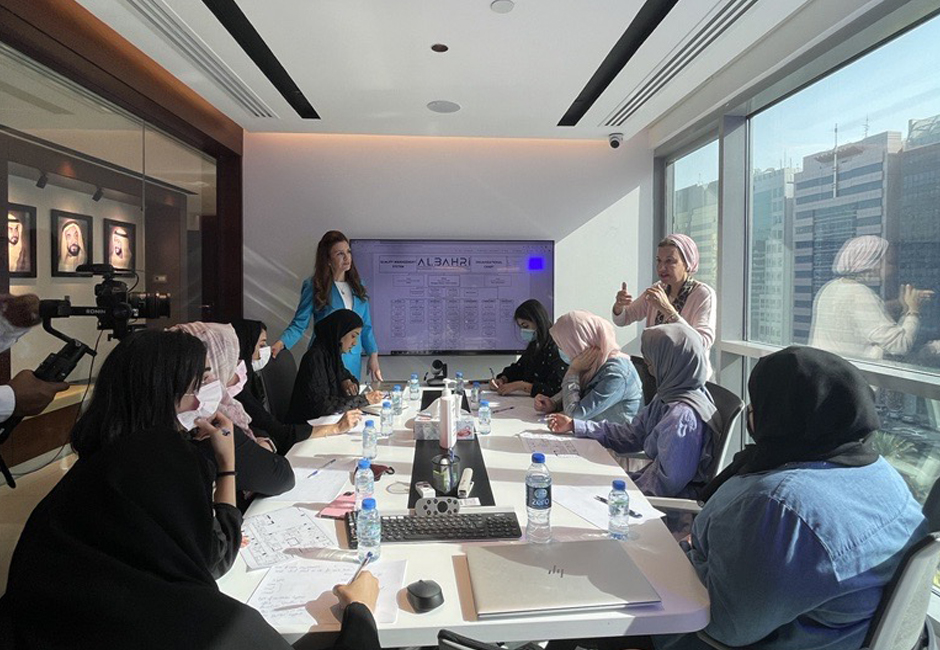 In collaboration with Al Bahri Consultancy and Interiors, Abu Dhabi's University (ADU)'s interior design students will have the opportunity to work on Al Bahri's office layout as a case study for their interior design studio 4 project. This collaboration is an initiative carried out by ADU's Interior Design Department, allowing students to express their creative ideas and translate them into an applied practical experience that transforms different settings into innovative and aesthetically pleasing spaces.
As part of the brief, students were able to apply their theoretical knowledge and translate it into applied practical experience, offering innovative design concepts for the office's interior architecture and design. Additionally, participating students had the opportunity to gain real-life client experience in the interior design industry by engaging with real clients, day-to-day design activities and site visits.
As part of this initiative, interior design students will visit Al Bahri Consultancy and Interiors' offices for a case study and work with Al Bahri Consultancy and Interiors as a client to renovate its offices. Students will present their work to the owners of Al Bahri Consultancy and Interiors throughout the semester and create 3D videos and animated videos of their final project, which will also be submitted as part of their Interior Design Studio 4 project course.
Dr. Sadeka Abdel Shakour, Associate Professor of Furniture and Interior Design, Interior Design Program Coordinator, said: "We are thrilled with our students' exemplary standards of quality. Cleverly interspersing style and practicality, the projects presented ranged from contemporary office systems to smart office systems. The competency of the students' work reflects their commendable skills, artistic vision, and the tools that they acquired during their journey at ADU."
She added: "We look forward to seeing all of our students contribute towards enriching the UAE's urban development. We thank our professors and academic staff at ADU for their efforts in preparing a generation of outstanding calibre and creative prowess."
The collaboration also includes inviting the owner of Al Bahri Consultancy and Interiors to be a client and part of the jury during evaluations and juries at ADU, allowing ADU interior design students to gain further real industry insight and feedback on their work.
The interior design program at ADU combines aesthetics and technology, including Computer Aided Design (CAD) and 3D computer modelling, to help students create remarkable indoor environments that are practical and elegant.
Based in Abu Dhabi, Al Bahri Consultants design projects aim meet and exceed the expectations of clients through extensive communication and dialogue, to ensure that each design is unique and a true collaborative effort between designer and client.