International Entrepreneurs Discuss CSR and Business Sustainability at ADU's 4th International ICOM Conference
Around 120 research papers were presented discussing 21 different business tracks across 13 different themes
Over 120 participants in attendance represented 72 local and international universities from 32 countries
The conference shed light on business practices including corporate social responsibility, ethics, and governance
Abu Dhabi- 16 June 2019: Abu Dhabi University's (ADU) College of Business organized and hosted the fourth International Conference on Organization and Management (ICOM 2019) in collaboration with the Global Corporate Governance Institute (GCGI). The event was held at the prestigious, Intercontinental Hotel Abu Dhabi, from 12-13 June 2019 in Abu Dhabi.
Under this year's theme 'Corporate Social Responsibility (CSR), Ethics, Governance, and Sustainability', the conference focused on the multitude of ways in which CSR values can be developed and leveraged to drive organizations towards achieving their business goals. At the conference, 120 research papers were presented discussing 21 different business tracks across 13 different themes. The topics included Sustainable Development, Management and Governance, Entrepreneurship, and Innovation Management.
In his welcome note, Professor Waqar Ahmad, ADU's Chancellor, said, "We are proud to be hosting this premier business-focused event. For responsible organizations, CSR needs to go hand in hand with business sustainability. The event has already been successful in creating a platform for business academics worldwide by highlighting important entrepreneurial practices such as CSR, ethics and governance. We extend our thanks to the participants for partaking in the event."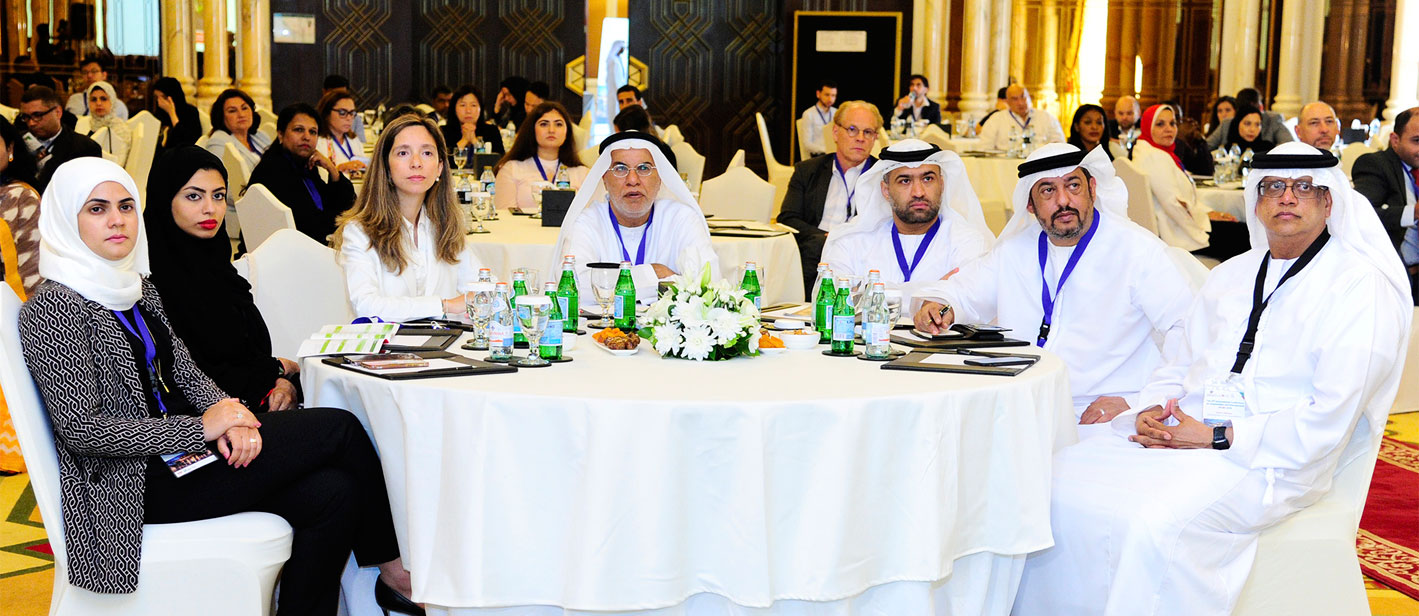 With over 120 participants representing 72 local and international universities from 32 countries, the conference welcomed a stellar line-up of pioneering, globally-recognized academics, decision-makers and entrepreneurs and featured a mix of keynote presentations, seminars, and expert-led workshops.
The conference's keynote speakers included Professor Maurizio Zollo, Professor of Strategy and Sustainability and Scientific Director of the Leonardo Center at Imperial College Business School. On the first day of the conference, Professor Zollo addressed the importance of CSR and sustainability to private and public corporations and their various communities. He focused on the need for corporations to take a holistic strategic and integrated approach to CSR implementation to have the desired impact for all stakeholders and a prosperous society.
Professor Elisabeth Fröhlich, President of Cologne Business School and Professor of Strategic Supply Management, discussed the challenges and opportunities faced by sustainable supply chain implementation, specifically focusing on green procurement in organizations.
Professor Sherine Farouk, Assistant Provost of Academic Projects at ADU and co-chair of the conference committee commented, "We are proud to have to have organized and hosted this leading business conference and represent the UAE as a global education hub. This year's edition saw pioneering groups of delegates visiting for the first time from across the globe, which is testament to ADU's efforts in fostering applied research to create a holistic learning experience for our students in line with the government's strategy to build a more sustainable business eco-system in the UAE."
As part of the conference, a special Doctoral Consortium session comprising of a committee of high-profile international academics was organized in collaboration with the Doctor of Business Administration Program of ADU's College of Business. The session was led by Professor Thomas Clarke, Director of the Centre for Corporate Governance at the University of Technology Sydney. During the session, a seminar was held followed by workshops led by expert panelists in the business track, which discussed a wide-range of papers submitted by junior scholars and doctoral students to help advance their research.
In addition, a separate session was held to mark the official launch of a new business book co-authored by Professor Thomas Clarke and Professor Christos Pitelis, Dean of ADU's College of Business, titled 'The Oxford Handbook of the Corporation'. The book focuses on the future of corporations and sustainability.
ADU was selected by the Convention Bureau at the Department of Culture and Tourism (DCT) Abu Dhabi to collaborate with the GCGI to organize the international conference in its fourth edition. The global alliance is dedicated to rethinking and integrating Corporate Governance and Corporate Social Responsibility into management practice, education, and development.
Thirteen selected research works were awarded 'Best Paper'. Winners included Sheikha Dr. Moza Tahnoon Al Nahyan, from Abu Dhabi University for her paper titled 'Selection of Project Delivery Method for Large Infrastructure Projects in the UAE'; Cecilia Marchesi, from Bocconi University, Italy for her research project 'Initial Coin Offerings: Two sides of the same coin – How complementarities between technology and business drive performance of digital currencies'; Ahmad Hammami from Concordia University, Canada for their paper on 'Audit Quality, Environmental, Social, and Governance Disclosure and Firm Investment Efficiency: Evidence from Canada'; and Maria Molina-Domene, from the London School of Economics, UK for her paper titled 'What Twitter reveals about a company's reputation and productivity'.