ADU Volunteer Students Recognized for Lending A Hand to People of Determination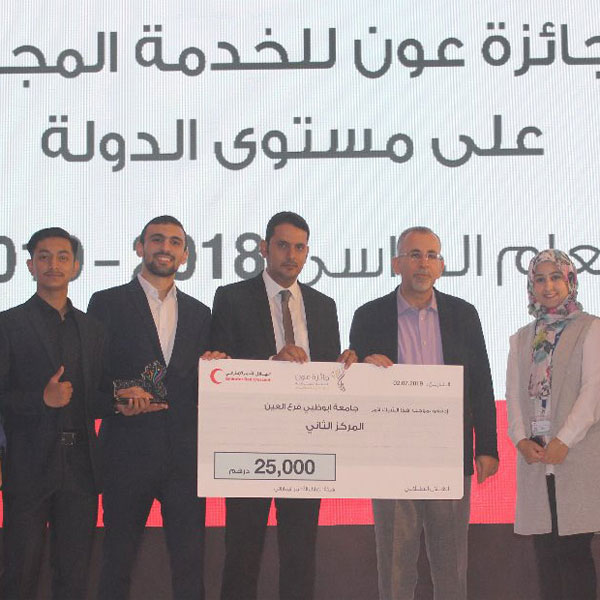 Seven students from Abu Dhabi University's Al Ain campus were honored for their volunteer work at the Aoun Community Service Award ceremony held at the University's main campus in Abu Dhabi. Organized by the Emirates Red Crescent, the award recognized the ADU team with a cash prize of AED 25,000, who scooped second place.
Led by ADU's Student Affairs Department, the students formed a volunteer group in February. The students, whose group was named 'Hand by Hand', are dedicated to supporting People of Determination and their inclusion within the community in a bid to contribute to achieving social integration.
Raneem Al Madhoun, Student Affairs Coordinator at Abu Dhabi University in Al Ain, commented. "We are immensely proud to have witnessed the fruitful results of our students' volunteer work and the spirit of kindness and altruism in our community. In line with the Year of Tolerance, ADU strives to lead by example and embody the values of tolerance and inclusion, maintaining a strong impact on its community and the wider society."

Abdallah Al Salmani, ADU student and President of the 'Hand by Hand' team, noted, "It has been a pleasure working with my team for something bigger than ourselves, which is what we were able to achieve by collaborating with the Emirates Red Crescent. Working on these events has taught us the power of small acts of service and has broadened our understanding of the concept of tolerance and equal rights among citizens. We are delighted to have expanded our voluntary experience and are grateful for the opportunity to contribute to society. I deeply appreciate my teammates' impressive efforts, as well as ADU for their continuous support."
The 'Hand by Hand' volunteering team was recognized for their efforts in helping organize more than 12 educational and entertainment community service initiatives for People of Determination. Over two months, ADU facilitated a number of visits to care centers for children with physical and mental impairments, including Al Ain Center for the Care and Rehabilitation of People with Disabilities and Al Najah Private Rehabilitation Center.
Mohamed Abu Ebaid, Student Affairs Coordinator, added, "We believe that the University's impact in building character and instilling noble values of selflessness and generosity among its students extends far beyond classroom learning. This experience has been a truly rewarding and eye-opening experience for our students. We look forward to continuing our volunteer work throughout the year and encouraging more students to participate."

One of the initiatives organized by ADU saw 20 children enjoy a funfair event with activities including face painting and drawing, among others. The 'Hand by Hand' team also organized a one-day open platform for children to share inspirational stories of their conditions, personal lives, and how they continue to overcome their disabilities to live a fulfilling life. During this all-day event, the University honored a visually impaired Emirati student at the University of Sharjah, Mr. Majed Al Janahi who was chosen as the best actor who plays a second role in 2014 in the school theater, he is also a member in the Dubai Corporation for Ambulance Services. Mr. Al Janahi Converted a book into Braille to help the blind to deal with emergency situations and set an inspirational example for others.
In addition, the team also engaged with determined children in a desert clean-up initiative to encourage a spirit of camaraderie and teamwork, at the same time as promoting a sense of equality and purpose amongst members of the community. As part of their successful volunteer work, the 'Hand by Hand' team have played an active role in leading a team of 35 ADU volunteers, who supported and guided determined athletes during the Special Olympics World Games Abu Dhabi 2019, the world's largest sporting and humanitarian event.
Similarly, the team organized a series of recreational activities and sporting events for People of Determination that featured volleyball and football matches. The events aimed to encourage an active lifestyle, as well as provide determined children with the opportunity to engage in fun activities and healthy competition.

The award was launched in February this year and winners were announced in July. The ceremony awarded winners from 38 participating institutions from across the UAE.
Aimed to instill a sense of social responsibility and promote community services, the Aoun Community Services Award honors students from various academic institutions who have gone above and beyond to engage in volunteer work that supports local communities in meaningful and impactful ways.