ADU Signs MoU with Sungkyunkwan University in South Korea
ADU signed a Memorandum of Understanding (MoU) with Sungkyunkwan University (SKKU), a comprehensive research university and an internationally renowned institution located in South Korea.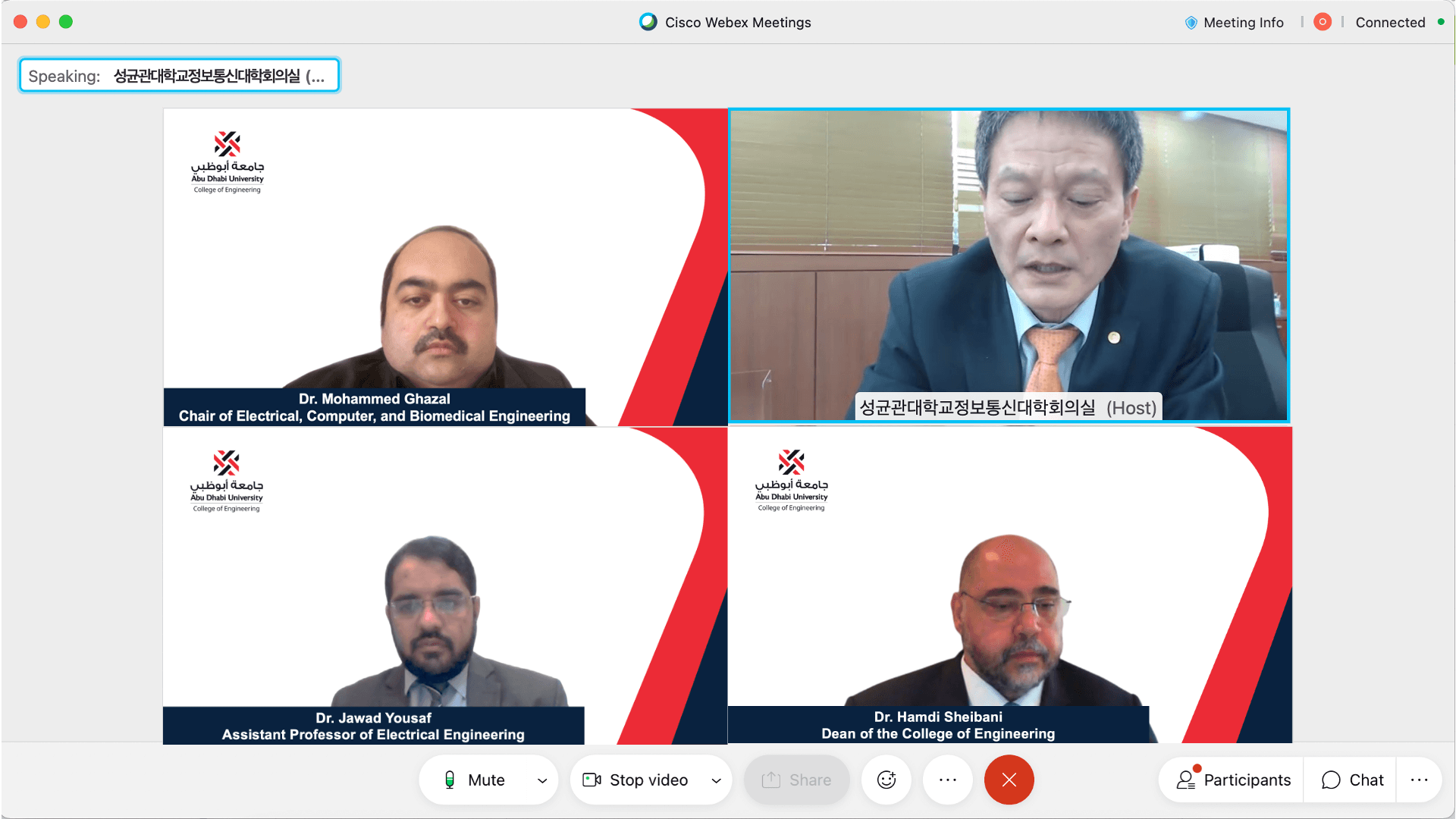 ADU signed a Memorandum of Understanding (MoU) with Sungkyunkwan University (SKKU), a comprehensive research university and an internationally renowned institution located in South Korea. The MoU aims to strengthen and facilitate the academic exchanges in the engineering discipline, align the academic curricula to ensure they are on a par with international standards, and foster collaborative research projects.
SKKU has a long and distinguished history of over 623 years and has been attended by more than 23,000 students. As one of the oldest and most prestigious universities in South Korea which has been ranked in the top 5% of academic institutions in the region according to international ratings, SKKU has dedicated itself to the pursuit of excellence. The university is dedicated to educating talented students by building a broad knowledge foundation, adopting communicative leadership, and inspiring a challenging spirit within the student body.
The MoU signing ceremony was held virtually in the presence of Dr. Hamdi Sheibani, Dean of College of Engineering at ADU, and Professor Minyoung Chung, Dean of College of Information and Communication Engineering (CICE) at SKKU. Faculty members from the College of Engineering including Dr. Jawad Yousaf, Assistant Professor of Electrical Engineering and SKKU alumnus, and Dr. Mohammed Ghazal, Professor and Chair of Electrical, Computer, and Biomedical Engineering attended the ceremony. Professor Kae Won Choi, Director CICE Center of International Affairs and Professor Nah Wansoo, CICE faculty member also joined the virtual meeting.
Under the agreement, the College of Information and Communication Engineering at SSKU and the College of Engineering at ADU have agreed to enhance and foster the exchange of academic material, joint research projects, educational programs and to ease the mobility of students and faculty members between the two universities. The MOU has been activated this term with students from the Electrical, Computer, and Biomedical Engineering programs taking a course by Dr. Byungyou Hong from SKKU. Besides teaching, ADU Communication Research Group is actively collaborating with the Electromagnetic Compatibility Laboratory of SKKU for different research projects related to Reverberation Chamber and Electrostatic Discharge (ESD) Analysis of high-speed memory modules.
Commenting on the agreement, Dr. Hamdi Sheibani said, "ADU is the first Arab university to sign an MoU with SSKU and we are confident that this exchange will enhance the integration of knowledge-sharing in the field of Engineering. ADU considers diversity to be among its key strengths and we believe that this partnership will open doors for all students and faculty members from ADU and SKKU to share and exchange cultural knowledge and experiences."
Dr. Mohammed Ghazal said, "Building our international links and developing strategic relationships with top institutions worldwide is vital to achieving ADU's vision. We are actively encouraging international academic collaborations through exchange of materials and experiences and more specifically, building and bringing valuable and tangible benefits to our students."
Commenting on the agreement, Prof. Minyoung Chung said, "While combatting the spread of COVID-19, the world has been changing dramatically, and higher education has had to adapt in accordance with this trend. As a result, students across the Earth cannot attend classes in-person and research as well as extracurricular activities have been forced online. However, these developments have given us a special opportunity. Now we have seen the great potential in remote collaborations between universities, regardless of the physical distance, which we are conducting through this agreement we are signing here today."
He added "Through the fruitful results obtained from providing online content to ADU, we can expand the scope of our cooperative partnership to joint research collaboration and exchange between our universities in the near future. Being SKKU's first partner in the region, we are looking to work side by side with ADU to promote and recruit excellent students, and I am certain it will be mutually beneficial in many ways."
According to the 2021 QS World University rankings, Abu Dhabi University ranked among the top 11 universities worldwide recognized for student body diversity. ADU continues its commitment towards building regional and international partnerships that are aligned with its mission and to provide its students with world-class practical and theoretical opportunities.